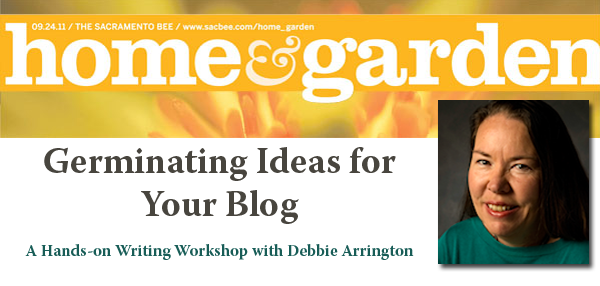 Want your blog (and readership) to grow? Writers and gardeners need food for inspiration, but where do you find those seeds for thought?
Right in your own backyard, of course. But we'll also go further afield in this lively, hands-on discussion of gardening, food and writing.
Debbie Arrington, The Bee's Home & Garden writer and longtime gardener, will offer pointers and tips along with some basics to avoiding writer's block or gardener's burnout. Get ready to sprout a future harvest of fun stuff for both you and your audience
Date: Wednesday, January 25, 2012
Time: 5:30-7 p.m.
Location: The Sacramento Bee, 21st and Q streets, Sacramento

Cost: Free!
Please register to attend. You do not need to bring your printed ticket to the event. Parking is available in The Bee's visitor parking lot on Q Street.
Questions? Contact Lisa Howard, Sacramento Connect Community Manager at lhoward@sacbee.com.



Blogs and community news in partnership with The Sacramento Bee
Have a blog? Learn more about joining Sacramento Connect.
You are receiving this email as a registered participant of "Building a Better Blog: Tips from Bree Hester" that took place at The Sacramento Bee on Thursday, May 12, 2011. To be removed from the mailing list, please send an email to lhoward@sacbee.com.